Installation: Learning about Stigma in Health Settings
External and Internal Stigma
Health Related Stigma is:
Well-documented
Experienced globally
Found across a wide range of health conditions
Impacts health-seeking behavior, engagement in care, and adherence to treatment
Stigma affects us in many ways:
We often anticipate stigma.
We can perceive stigma, whether present or not.
Individuals experience and can internalize stigma.
Individuals can also perpetuate health-related stigma. While stigma outcomes are mostly negative, positive outcomes are possible; stigma has been known to foster resilience in marginalized populations and fuel the formation of patient advocacy groups and advocacy efforts that have led to major policy changes to improve access to healthcare for some stigmatized conditions."
Health Stigma Discrimination Framework
The idea behind COP-RCORP's approach to addressing stigma comes from The Health Stigma and Discrimination Framework: a global, crosscutting framework to inform research, intervention development, and policy on health-related stigmas (Stangl et.al., 2019). In this framework, health-stigma is examined as a multi-layered process that that compromises the general health and wellbeing of affected communities. Stangl and her colleagues discuss interrupting the stigma process before individuals act on bad stigma to mitigate harm and shift harmful attitudes and behaviors (2019). Below is the image of the original Health Stigma Discrimination Framework, reprinted with permission from the original authors.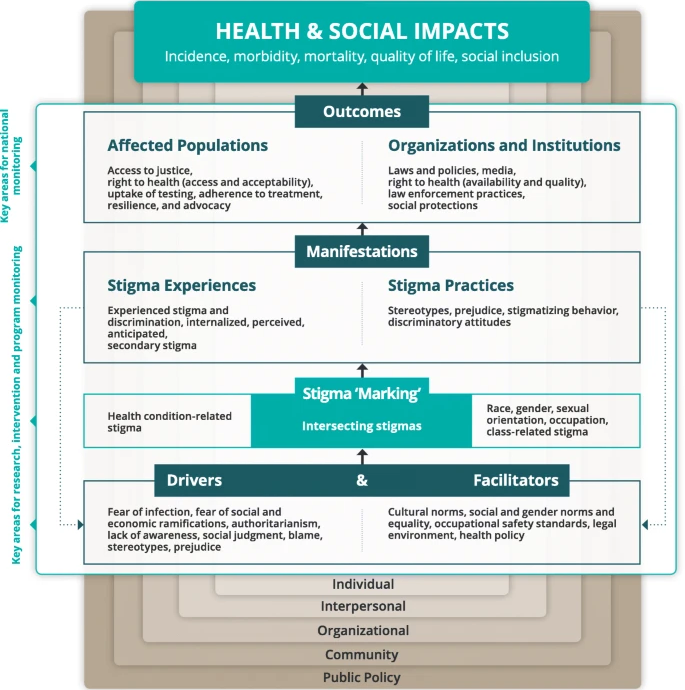 As you can see, just as stigma is complex and multi-layered, the framework is too. To help better understand the framework, the COP-RCORP master consortium broke into a smaller, Stigma Workgroup. In stigma workgroup meetings, community leaders from the COP-RCORP service areas worked together to understand and apply the framework. The result is a comprehensive explanatory video (below) and a direct application of the framework to our COP-RCORP activities.